One of the things that I love about being a musician in the events industry is the variety of events I am able to be a part of. From corporate events, to non-profit fundraisers, to weddings & receptions, I am here for it all. The beauty is to be able to see the pieces of the puzzle, be one of the pieces of the puzzle, and see the elaborate masterpiece that is formed through collaboration.
AnnaLucia Events was the event company that designed and planned the Tampa Museum of Art Patron Party, and what a pleasure it was to work with them. The detail, organization, and thoroughness was evident in not only communication but in the execution of the event. They were responsible for finding the right pieces and putting them together and that they did.
Event design & planning by AnnaLucia Events
For this event in particular, there was a special request from the host. Surprising actually when I heard it. The host of the event wanted the music to be old school hip hop. Now, you may be thinking 'oh piece of cake LaRon, I'm sure you know old school hip hop'. Well, here's the thing. Contrary to my wife and her brother, I've never been a 'hip hop head' like that (A Tribe Called Quest, Mobb Deep, etc). I have an appreciation for it for sure but my music days were filled with pop stars like the Backstreet Boys, Sisqo, LFO, NSync, Destinys Child, (don't judge me), Usher, and every other artist on TRL and 106th & Park. LOL. So yes, this would be a little different for me!
However, there's something really special here I'd like to share with you. It's called preparation and collaboration.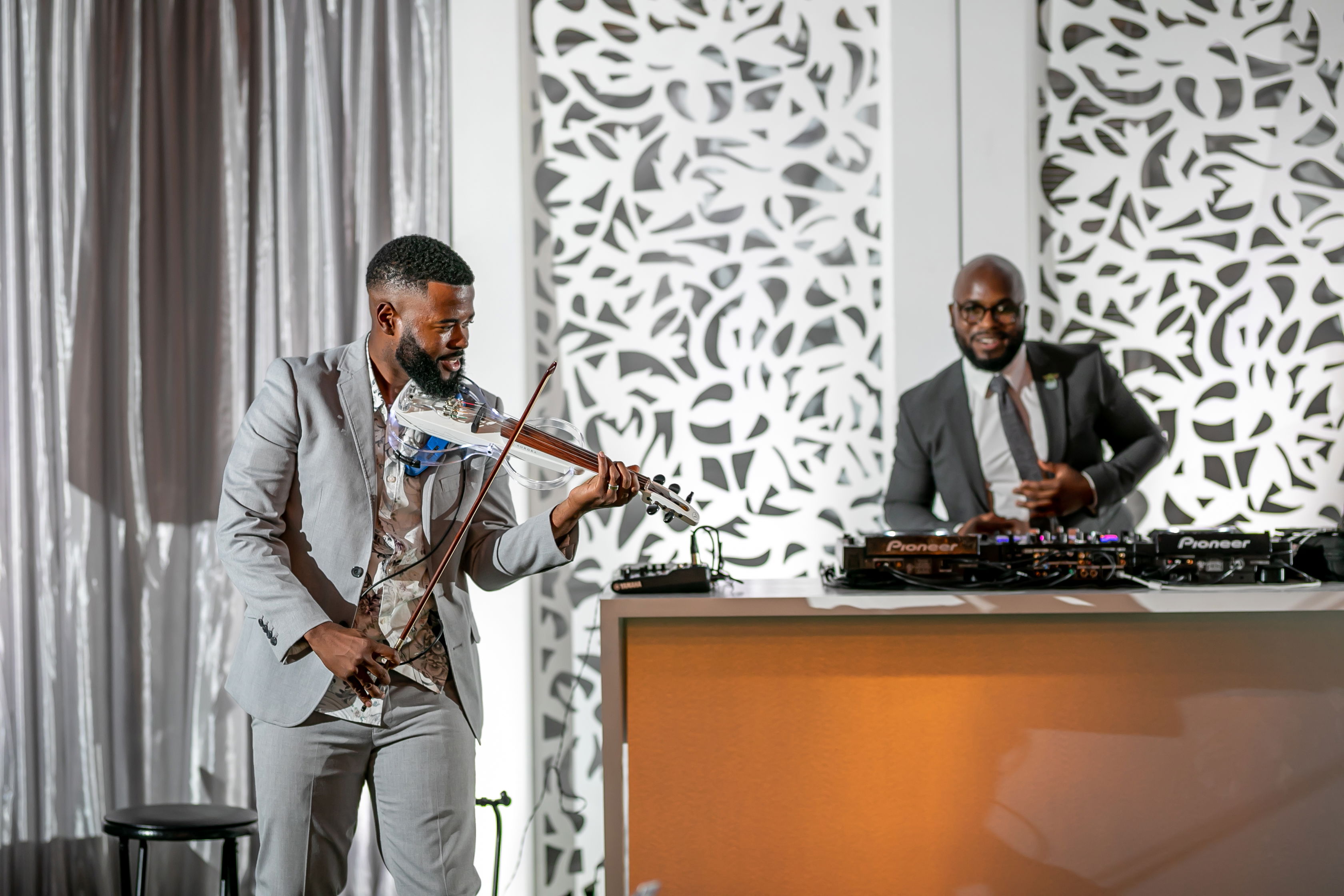 Me and DJ Teknology. Photo by FotoBohemia
I connected with the DJ, Ben ' DJ Teknology' Cameron, who was such a professional and friendly guy and we chatted about some of the artist and songs he would play. That's all I needed to get me started on my old-school hip-hop music journey. I filled my Apple Playlist with all the songs I could find, listened to them, and played through them feeling the rhythm, the patterns in the songs, etc. Then I found some songs that were comparable from my playlist of songs and was able to insert them into the set.
The night of the TMA Patron Party, we jammed like we had been working together for years and it was a true collaboration along with the audio team for the night, The Production Crew (one of the best in Tampa).The clients and guests enjoyed the music and the artistic expression really fit the mood for the night.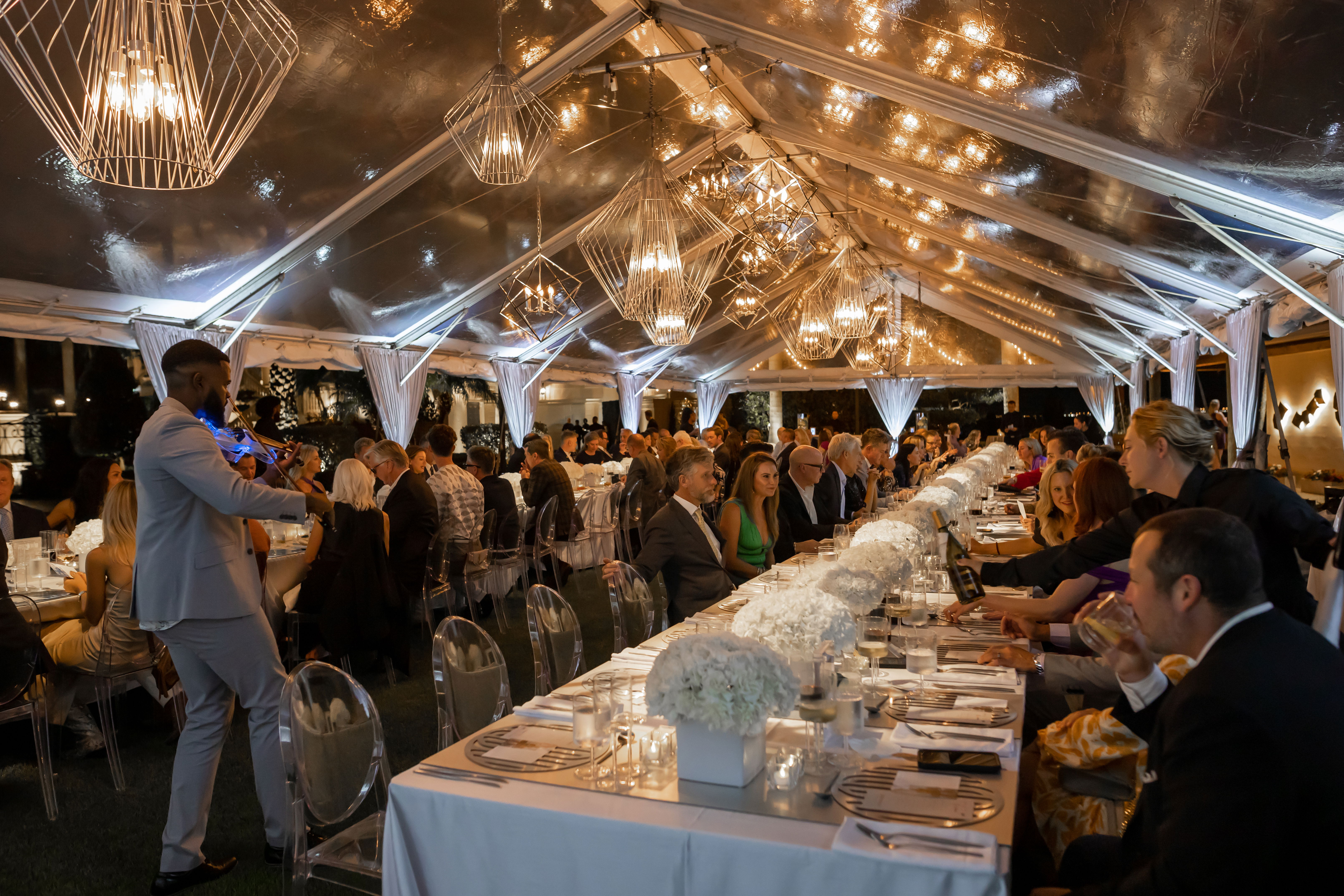 Photo by FotoBohemia
And now I have a couple of songs I have added to my library because of how well they flowed with my violin. But what if I would have shunned away because it was a little outside of my initial comfort? Sometimes it takes something external to push us and challenge us. God knows, most of us would stay in our comfort if we could and then complain about how we are not growing...lol. But thank God, He will take us through life experiences and make us grow.
By no means am I comparing my situation with the music to a trial at all, because I simply had to learn some more songs (that's it!). I've been through real life trials (I'll save that for another blog), and that situation was not one of them. But there was something familiar I felt, and that's discomfort. It made me think about how we can face a lot of discomfort when we are facing life's challenges, trials, and tribulations.
Everybody faces them, but how you go through them is the difference. My pastor, Heanon Tate, often says "Don't fire your workers." and by "workers" he is referring to your trials, hardships, tribulations etc. These things are meant to carry us from one place to the next place. But what is the next place? So many times, we equate 'next place' to more material things and opportunities. But sometimes that success is a more equipped mind, a different outlook on life, or a new perspective. Our habits and actions won't change until our mind does. So I'd call a mindset change, one of the greatest successes we could ever have! The next time you are facing some element of discomfort, here's your reminder to let it do its job and take you to that next place of growth.